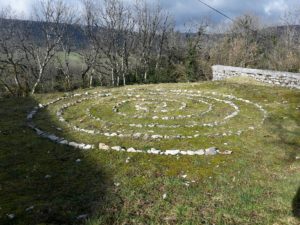 The landart installation "The St. Julien spiral", located in the french region "La petite montagne" was created in 2015 as a tribute to the victims of the shootings in Copenhagen and Paris.
Oeuvre land art: Créez pour rendre hommage aux victimes du terrorisme á Paris et Copenhaque.
I created the spiral as a socio-artistic installation allowing passers-by to participate and symbolically show tribute to the victims of the shootings by adding stones to the spiral. Many have done so since its creation and the spiral is still growing. Ephemeral, symbol of life and evolution the spiral is still there.
My close friend for more than 35 years the danish filmmaker Finn Nørgård was killed in the Copenhagen shootings trying to stop the wrongdoing. He was titled "Chevalier des Arts et Lettres" for this bravery by the French government. I honour his memory.